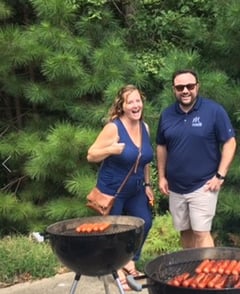 Jake Evans, Director of Operations for Liz Moore & Associates, and Virginia Payne, Director of the Liz Moore Property Management Division, hosted last week's "Dog Days of Summer" potluck lunch grilling hotdogs and serving sangria from La Tienda. Over $4,026 was raised, a new potluck record, and all proceeds were donated to Edmarc, an organization expanding to the Williamsburg/Gloucester area.
After 44 years of serving the Hampton Roads area, Edmarc has an opportunity to expand to Williamsburg, Gloucester, Mathews, and the surrounding counties, doubling their capacity to help children and families who are in critical need of their services.
Edmarc was the first hospice in the nation designed for children and has been serving the Hampton Roads community for over 40 years. Nurses, social workers, and volunteers for Edmarc currently serve 70-80 children in its clinical program and more than 160 families in its bereavement program.