Stop by Gallina Grasso Italian Kitchen on May 22nd between 5:30-7:30 to meet Ricky Edgerton of Edgerton Contracting Inc., now building Smith Farm Estates, one of Tabb's newest communities.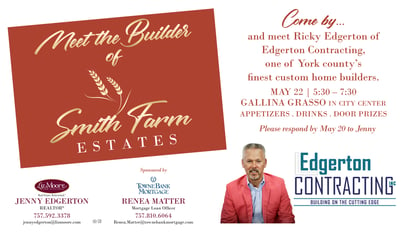 Edgerton Contracting was founded in Yorktown, Virginia in 1994. Before getting his contractor's license, Ricky designed submarines and aircraft carriers, but seldom got to see his designs once they were built. After building his own house, Ricky discovered his passion for home construction and the fulfillment he received from seeing his design come to life in a practical, meaningful way. It's fitting that the inspiration to start the business was constructing his own family's home, as family is the cornerstone of Edgerton Contracting.
For more information on Smith Farm Estates, or to find out how you can reserve your lot today, email jennyedgerton@lizmoore.com.