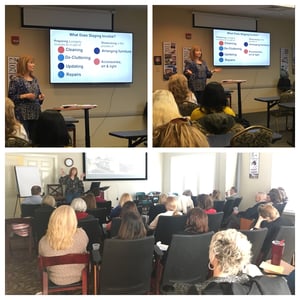 58 Liz Moore agents earned the RESA Certified Staging Advocate™ designation (RESA CSA™) from the Real Estate Staging Association, the trade association for professional real estate stagers. The RESA CSA™ designation is earned by agents who complete the mandatory continuing education course called Staging to Sell, What Every Agent Should Know. Agents completing the 3-hour continuing education course are trained on how the entire pre-market staging process will benefit their client and secure their relationship as a true advocate for their client's best interest.
The course was taught by Therese Robinson, who partners with Liz Moore to conduct pre-listing staging consultations with their clients.
"Staging makes a huge difference in how quickly a home sells, as well as getting top dollar for the seller," says Liz Moore, President of Liz Moore & Associates. "We're committed to offering this service as part of our pre-listing package," she says.
Are you interested in meeting with an agent who holds a staging designation? Email us at info@lizmoore.com and we'll put you in touch!