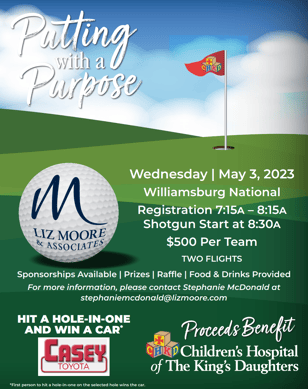 Liz Moore & Associates will be holding their first Charity Golf Tournament as part of their year long 20th Anniversary celebration on Wednesday, May 3rd at Williamsburg National. Registration begins at 7:15 am and a shotgun start will be at 8:30 am.
All proceeds will go to the Children's Hospital of the King's Daughters.
The cost to play is $500 per team. Food and drinks are provided. Hit a hole in one and win a car, thanks to Casey Toyota!
Various sponsorships are available, as well as prizes, raffles, and more.
"We are very excited about our first ever charity golf tournament! This will be a fun day for a great cause," said Liz Moore. "We are truly blessed to have a world class facility like CHKD in our community. My son, Grayson, was in the NICU for 3 months after he was born, and we experienced firsthand the incredible care that CHKD provides."
For more information, or to register and pay online, visit www.lizmoore.com/golf.