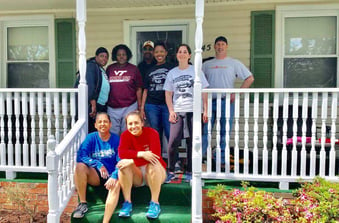 Various organizations, including Habitat for Humanity, Hampton Redevelopment and Housing Authority, and the City of Hampton, came together on Saturday, May 6, 2017 to complete the Hampton Home Repair Blitz. Six homeowners in the North Phoebus area had homes that received exterior repairs including painting, fascia/wooden trim replacement, railing additions, storm doors, gutter work, power washing, light landscaping and more. Interior painting, minor repairs and landscaping were also done to beautify Bryan and Moton Elementary Schools.
Our very own Patrick Pauls masterfully built an impressive wooden platform with railing to aid a homeowner who was unable to go out the back door due to a disability and deteriorating steps. Kaera Mims was the team lead and Nadia Anac was not only a great help with her painting skills, but she brought some friends who were so helpful!
Hampton Home Repair Blitz...just another reason why we love where we live!
Are you interested in hot real estate topics, tips and trends?
Click below to subscribe to our blog!