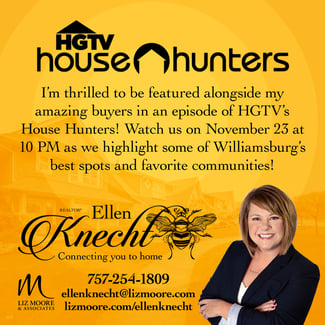 Ellen Knecht, a REALTOR® with the Williamsburg office of Liz Moore & Associates, to be featured along with her clients on HGTV's House Hunters
Ellen introduced her clients to each other and later she helped them find a home for their blended family!
Ellen's clients, Laura Mullin and Michael Gasser, were excited to combine their families into a single household. Originally introduced to each other by Ellen Knecht, a REALTOR® with Liz Moore & Associates, Ellen was their first call when they decided to look for a house big enough for their blended family that includes four children.
According to Ellen, HGTV's House Hunters gets about 200 applications per week, so Laura and Michael were excited when they learned that they were selected. HGTV filmed the couple for a total of 7 days in the Williamsburg area as they searched for their new home.
The crew also filmed at The Sipping Flea, a hometown coffee shop in Toano.
Air date: November 23rd – 10:00PM