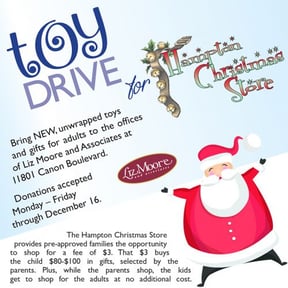 Liz Moore & Associates is helping to give back to the parents and children of the community this year by sponsoring the The Hampton Christmas Store. Hampton Pastor, "Santa" Steve Edwards, started the store a few years ago to help families in need each Christmas.
Parents can pay $3 per child and pick out $80-$100 worth of gifts from the Hampton Christmas Store. While the parents shop for their children, the children get to shop for their parents, for free.
We're accepting new, unwrapped toys and new unwrapped adult goods (cosmetics, toiletries, picture frames, scarves, hats, gloves, candles, etc.) from now until Friday, December 15th in our Newport News Office (11801 Canon Blvd.).
Email Peggy Todd at peggytodd@lizmoore.com if you have any questions.
Just another reason why we love where we live!
Are you interested in local events, hot real estate topics, tips and trends?
Click below to subscribe to our blog!