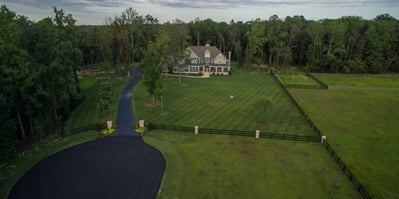 Join us for the Grand Opening of the newest model in Madison Estates on Wednesday, September 11th from 12-2pm at 7515 Madison Estates Dr., Hanover, VA 23111. Enjoy lunch and meet the builder.
If you miss us, you can stop by on Saturday, September 14th from 12-2pm.
Come experience the newly debuted, never-before-built Chapel Hill by NK Homes of Virginia! This beautiful 3,351 sq. foot craftsman boasts bright open spaces, beautiful trim work and built-in cabinetry as sits on a large, lush green yard. With 4 bedrooms and 3.5 baths, there is no shortage of space! The first floor master is full of character with stained tongue and groove ceilings and the master bath is full of natural light. Enjoy evenings by the fire with your own private fire pit, situated on the patio, located off of the back deck.
The Chapel Hill is nestled in the community of Madison Estates, a quaint, private area near old Civil War trails and battle grounds in the Cold Harbor area of Hanover. Developed by Godsey Property, Inc, the land was once private property of the Godsey family, and in fact, they still reside in the neighborhood. A large private barn is a center focus of the community and one can stop at any point and see horses leisurely grazing in the fields.
People come to Madison Estates seeking privacy. Not only do residents find that, but they also find an amazing sense of community; creating the perfect balance for a blissful life. Only 9 homesites remain, if you're interested in learning more or taking a tour, please contact Jana Mills JanaMills@lizmoore.com.