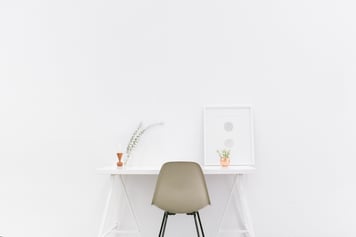 Home staging is one of the most powerful ways to help buyers imagine themselves in your home and make them want to buy it. Decluttering is the first, and most important step, in home staging. Removing clutter
allows buyers to see the structure and space of your home.

Sentimentality can be a powerful disincentive to declutter. You might feel guilty packing away your grandmother's china, or your budding Picasso's finger paintings, but doing so allows your home to really be seen. Buyers need to be able to picture themselves living in your home, with their furniture and their belongings, and if too many of your things fill their field of vision, they might not be able to see their life there and they might walk away.

Decluttering can be overwhelming, so we've broken it down and provided some helpful tips.
Study your entire house.
Go room-by-room, starting with the entryway. Try and view each room for the first time with a stranger's eyes. Notice anything that sticks out? Try and make each room resemble a neatly organized, clean hotel. Taking it little by little makes the task more manageable rather than trying to tackle the entire house at once.
Making piles is very helpful.
As you go through each room, make a stack of items to keep, one to donate, one to sell, and one to pack
away. Evaluate the value, need, use, and sentimentality of every item, place it in one of the piles, and move on. This organized approach can make the task easier.
Creating a spreadsheet can also help.
Each room will have different needs. Upon evaluation, you might find one room needs new paint, while another needs shelving for organization, and another needs boxes to pack excess items away. Organizing these tasks and needs into a spreadsheet can help prioritize expenses and improvements.
Emptying closets makes a difference.
Closets often become catchalls and graveyards; when homeowners don't know what to do with something they often stash it in a closet and it becomes forgotten with the out-of-sight out-of mind mentality. A good rule of thumb is discarding anything you haven''t worn in the last year. Studies show we only really wear about 20 percent of our clothes and that extra space will make your closets look bigger and more attractive to buyers.
Clearing off countertops and bookcases creates clean, visual lines and neutral style, allowing your home, and not your stuff, to shine. A few well-placed home décor items can add sparkle to the space. Home stagers follow a "rule of three" for clustering items into small groups to create visual interest but not distract from the room.
Purge attics, basements, and garages of clutter. These storage spaces often don't get much attention and quickly become cluttered, unorganized and untidy. Arranging items by type or holiday into clear, labeled tubs can help keep the space looking nice and neat while keeping you organized. It also helps potential buyers see all of the storage space your home offers.
Make sure your bathrooms are spotless.
Not every house has a luxurious spa, but by cleaning your grout, tile, toilets and showers you can help your
bathroom shine. Clearing off vanities and cleaning out drawers, cabinets, and medicine cabinets can help buyers see the storage your bathroom offers and help them imagine their toothbrush by your sink.

Unfortunately, our homes can become cluttered on the outside as well as the inside. Check around your home's exterior for outdoor toys, decorations, and natural clutter like leaves, branches, etc. This is also a great time to evaluate your home's overall curb appeal and make sure your home is making a good first impression. Lawns, shrubs, trees, and flower gardens should all be kept trimmed and tidy.
You have loved your home and worked hard to maintain it, you want that care and maintenance to show. By removing unnecessary items, you allow your home to shine and make the great first impression needed to impress buyers.
Click below to download our full Homeowner Staging Checklist and get your home ready to win both the beauty contest and the price war!
Are you interested in hot real estate topics, tips and trends?
Click below to subscribe to our blog!
Subscribe!