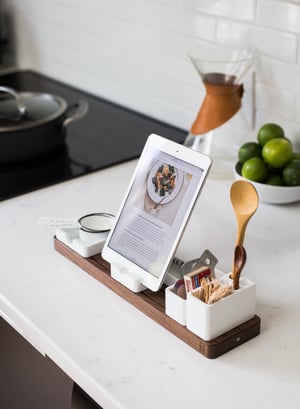 It's said that the kitchen is the heart of the home. It's where we prepare our meals every day, often where we eat, and where we gather and socialize. The countertops are the largest surface in the kitchen, and they need to be both durable and beautiful. So, what's trending in kitchen countertops in 2018?
For years granite was the preferred countertop material. It's strong, durable and attractive. Granite is a natural rock and is porous. That means liquids like water, wine, and oils can seep through the surface and cause staining and even encourage the breeding of dangerous bacteria. Granite can be sealed to solve the porous issue, but sealant wears off over time and must be redone again and again. Once sealed, granite is easy to clean and maintain and is unaffected by harsh chemicals making this an attractive choice.
Granite is still very popular, but with its noted downside, alternatives have been on the rise in popularity.
Quartz is by far the most popular trend right now. Quartz is generally harder and denser than granite and the pattern is more like marble which is appealing to many homeowners. Quartz is strong, durable, non-porous, and low maintenance. It is highly resistant to stains and is the most hygienic countertop option for homeowners. Quartz comes in many colors, patterns, and finishing techniques that mimic the look of natural stone. All of this does come at a price though, with Quartz being one of the more expensive countertop materials.
Marble has also been a popular choice recently. This countertop material is beautiful and highly heat resistant. Marble can be scratched and can be affected by harsh chemicals though, making it a little more difficult to clean. Marble is one of the more expensive choices on the market as well.
Butcher block countertops have been trending recently. These countertops are solid wood laminated together with adhesive, giving a warm, natural look. Butcher block is heat resistant but can burn and can also scratch easily. But as it's natural wood, this surface can be more easily repaired than other options.
Aside from material, there are other trends in countertops such as color, pattern, finish, and integrations.
Preference for soft neutral tones is a common theme running throughout the home in current décor trends, and kitchen countertops are no exception. Bold countertop colors are fading from popularity as neutrals become the norm. Instead of a bright blue or jet-black countertop, you are more likely to find soft grey, white and beige tones in kitchens in 2018. Homeowners are still incorporating colors in wall color or backsplash tile or even in their seating choices, but countertops are trending towards neutral colors.
Speaking of backsplash tile, we're seeing trends move away from the previously popular 4-inch-high slab of countertop material going up the wall. Now, in its place decorative tiles are starting at the countertop surface. As the countertop goes low-profile with neutral tones and thin slabs, the backsplash has become a canvas to try out bold styles. With the tendency for homeowners to extend the backsplash to the ceiling (instead of just below the wall cabinetry), the backsplash has become something of an accent wall, forming the visual focal point for the kitchen.
The busy pattern of round particulates is becoming less popular as realistic veining is gaining in popularity. Technology is offering creative solutions to make material like quartz resemble slabs of natural stone like granite and marble. Manufacturers are creating veins and interesting swirled patterns into their countertop slabs now.
For even more of a natural look, some homeowners are opting for a matte finish on their countertops rather than a high-gloss polished slab. Textured finishes like honed and leather surfaces are on the rise as home design as a whole is incorporating more textured and tactile surfaces. Honed finish is a matte finish with little to no shine. Depending on material, the look will vary, but it should have a low sheen and smooth surface. Honed finishes work well with marble as its lack of shine more easily conceals any flaws or scratch marks. Leathered finish has become popular in recent years, it has a soft sheen that is less glossy than a polished slab and has a different tactile feel. The leather finish retains the stone's natural color giving it a more natural and sophisticated look than honed. The finish also hides fingerprints and water spots well, which is very appealing.
With countertops trending toward more modern and functional materials and finishes, the kitchen sinks aren't being left behind. The favorite look for homeowners has been a sleek, continuous style from the countertop to the sink, a look that is still trending in 2018. Integrated sinks are made from the same material as the countertop so the two blend seamlessly together, resulting in a sleek, modern style. This trend also makes maintenance a breeze with the lack of a break between countertop and sink. Also, an adaptation to this is different material sinks–like stainless steel, vitreous china, and quartz that have a flange made of the same countertop material giving it that seamless integration from sink to surface. The possibilities are endless.
With so many options, homeowners can really change the look and feel of their kitchen by simply updating the countertops.
Are you thinking about selling your home and are wondering if you should update the countertops? Email us at info@lizmoore.com and we'd be happy to give you some advice!
Are you interested in hot real estate topics, tips and trends?
Click below to subscribe to our blog!