Stop by our Newport News Office on November 6th for a champagne art reception! At Liz Moore & Associates we love where we live, and we are excited to announce that we have commissioned local artist Bob Oller to capture our favorite places! Bob met Liz in 2015 when she asked several local artists to showcase their work at the Parade of Homes in Fords Colony. Liz fell in love with Bob's painting "Farmer's Market in Merchant Square" (pictured right) and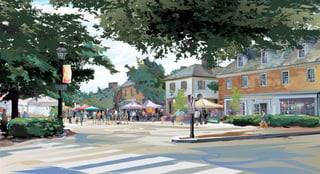 purchased a print for the office. Recently we decided to commission Bob to create permanent paintings for each of our offices that will depict some of our favorite places. Join us at our Newport News Office on Monday November 6th from 4-6 PM to learn about Bob's work and watch him debut the new collection. The office is located at 11801 Canon Boulevard, Suite 100, Newport News VA 23606.
Interested in finding more things to do in and around the Historic Triangle? Subscribe here to our blog as we post ideas frequently. You also can purchase a copy of Liz's recently published book, 101 Reasons to Love Living in the Historic Triangle, in either paperback or e-book version by clicking the button below.
Are you interested in hot real estate topics, tips and trends?
Click below to subscribe to our blog!