As we age, one of the most difficult and emotional decisions we face is whether or not to move from our current home. The answer to this question is not the same for everyone and will vary depending upon the individual situation. Statistics show that most decide to stay put, but is this really the best choice for you?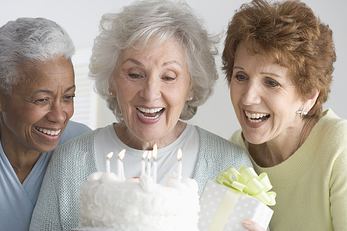 Many people do not want to leave their family home because of the memories they have there. You moved into your current home for a reason. You built many memories and you will do the same in a new neighborhood. Another reason is that many feel that moving into a retirement community forces them to give up some of their independence. This is a misconception. Most active adult communities have tons of things for seniors to do. As a matter of fact, many seniors claim that they became more "active" after choosing to move.
Family is another factor. It is much easier to age when we have the support of our loved ones. This is much easier for everyone if the kids and/or grandchildren are nearby. Many will choose to relocate closer to family members as they age.
For many of us, the design of our current home is simply not conducive to aging. Maybe your bedrooms are upstairs. Maybe it is simply too large to keep up with the cleaning and routine maintenance. Maybe the yard work is becoming a burden. Having these things taken care of for you, and having a floor plan that makes life easier, is the number one reason why people choose to move. With all of these things being done for you, it frees up your time to do more travelling or leisure activities.
Can I afford to move? This is a common question among those trying to decide if they should move into a retirement community. Most communities have regular fees to cover some of the extras you are currently paying for, which makes it easier to budget your monthly expenses. You will not have to worry about unexpected repair costs, etc. Things such as monthly lawn care and routine maintenance costs can be expensive.
I believe that making the move to a retirement community should at least be considered by all. There are many types of adult communities from active, to assisted living, to full time care. The type you choose depends upon your needs. Once you decide to make the change¸ you should first decide on a location. Next you will want to find something that suits your lifestyle and provides all of the amenities you want and need. It can make your aging years much more enjoyable!
The Liz Moore Senior Team understands the special needs of those who are downsizing, and we have a variety of resources to help you with auctions, estate sales, consignment, de-cluttering and every phase of getting your home ready to sell. Be sure to ask us about our free e-book for seniors interested in downsizing!
Find out what the best decision is for your situation! Email us at concierge@lizmoore.com, or click below, and we'll be happy to connect you with someone who specializes in this senior moves!
Are you interested in hot real estate topics, tips and trends?
Click below to subscribe to our blog!