Williamsburg's favorite community in the heart of the popular Monticello corridor, Monticello Woods, is almost sold out! Visit Wayne Harbin Builder's newest model home, The 4 bedroom, 3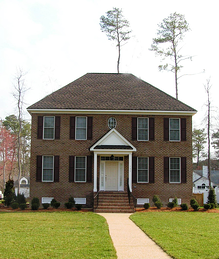 bath Peyton model, a 3100 square foot two story, located at 4000 Owl Creek. It will be open Friday, Saturday and Sunday beginning June 6th from 1-5.
Additionally, there are two prime home sites left, where you can either bring your own plan, or choose from one of a variety of popular Harbin plans. As the exclusive Southern Living program builder in the greater Williamsburg area, Harbin has access to a number of fabulous Southern Living house plans. There are lots of benefits to building a brand new home – the latest in kitchen design, outdoor living spaces, and amazing new fixtures will delight and inspire you! Today's energy efficient systems and the lowest interest rates in history make it more affordable to build your dream home than ever before.
Check us out on Facebook to see inside the construction of a Harbin Home, view videos and photos of different plans, or just follow building progress and homes for sale in Monticello Woods.
For more infomation on this home, or any others in Monticello Woods, call us at 757-645-4106.
Have you ever thought about buying a brand new home?
Tell us a little bit about your dream home, and we'll arrange for a complimentary consultation with a new homes expert who can point you in the right direction!
Are you interested in hot real estate topics, tips and trends?
Click below to subscribe to our blog!