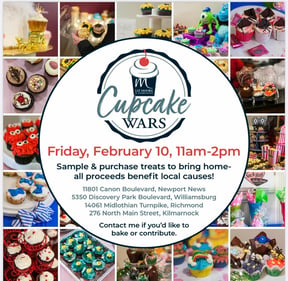 Liz Moore & Associates is back again this year with their annual Cupcake Wars! This philanthropic event benefits several favorite local charities.
Liz Moore & Associates broke a record last year, raising a grand total of $20,000 in just 3 hours across all offices located in Richmond, Newport News, Williamsburg, and Kilmarnock. This year, they expect to have another generous turnout.
It turns out that cupcake rivalry fueled by compassion can be truly inspiring. Attend this year's Cupcake Wars to get a look (and a taste) of all the unique, creative, and delicious cupcakes! With various themes and ideas, these cupcakes are as much of an art form as they are a tasty treat. Raising donations for charity has never been so sweet!
Stop by on Friday, February 10th from 11:00 am – 2:00 pm at any of the Liz Moore & Associates locations. You can also donate online at https://bit.ly/LMAcupcakes.
2023 Charities
Williamsburg and Newport News proceeds will go to the Children's Hospital of the King's Daughters.

Richmond proceeds will go to the Beacon Tree Foundation.

Kilmarnock proceeds will go to the RAL Art Center's smART Program for Young Artists.