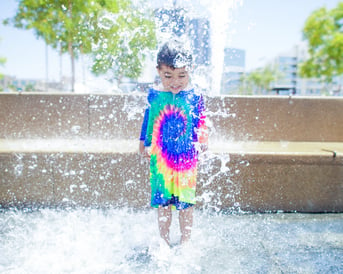 With temperatures heating up, we're all looking for places to cool down. Waterparks are the perfect place for the whole family to cool off together and have some fun. Luckily, there are many options just a short drive away, making a trip to the waterpark the perfect summer day trip!
The largest and best-known water park in Virginia is Water Country USA. The 43-acre park has state-of-the-art water rides and resort-style amenities. From water thrill rides and giant slides, to lazy rivers, a giant wave pool, and multiple children's splash areas, there is truly something for everyone at Water Country. Live entertainment, restaurants, souvenirs, cabanas, and locker rentals are available for guests. Admission is $60 for guests over 3 years old.
Kings Dominion is a theme park just north of Richmond in Doswell featuring thrill rides and roller coasters as well as a water park called Soak City, all included with your admission ticket. Soak City is a 20-acre water park featuring two wave pools, a lazy river, thrilling water slides, an interactive splash pad for children, and more. Cabana and locker rentals are available, along with several food choices and souvenir shops. Admission for guests over 48 inches tall is $68.00 and junior/senior prices for those under 48 inches is $46.00.
Ocean Breeze Waterpark is located in Virginia Beach and features over 30 rides, slides and attractions. Features include a one million-gallon wave pool, a lazy river, many body and float slides, and many slides and areas for small children including two water play structures. Cabanas, lockers, four eateries and three snack spots offering treats like slushies and dippin' dots. Cabanas and sunbrellas are available as well as locker rentals and souvenirs.
Cobblestone Park (formerly known as Overhill Lake) in Glen Allen is a large pool/waterpark with over one million gallons of water, fun water slides, anchored floats, waterfall mushrooms, and sand beaches with 20-foot-wide umbrellas and picnic tables. Admission is $15 per person for a day pass, and children 32 inches and under are free.
Hadad's Lake, located in Richmond, is a swimming lake and picnic ground that offers something for everyone. The water is filtered and chlorinated with a sandy bottom. There are two shallow 0-4 ft. deep and one large 15 ft. deep swimming areas that include rope swings and the super launch, "The Blob." There is also a three-acre lake for fishing and row boating, seven pavilions, 12 gazebos, several hundred picnic tables with umbrellas around the swimming and lake areas, a basketball court, sand volleyball courts, horseshoe pits, 18 hole mini-golf, two children's playground areas, and a clubhouse. Guests are asked to bring their own life jackets if they have them as the Lake only carries a limited number and they are required when using the inflatables. Children one and under are free, all others are $14.00 per day.
H2OBX covers 80 acres and is located three miles north of the Wright Memorial Bridge, the northern gateway to the Outer Banks. Resort style amenities are available including 50 private cabanas with luxury service. Four food and beverage outlets, lockers, and Wi-Fi are also among the conveniences. The waterpark has more than 30 waterslides, pools, and attractions for visitors to enjoy. Guests can ride the waves on a FlowRider, float along an adventure river, body surf in two wave pools, and experience a 1,000-gallon bucket dump, in addition to an array of traditional rides and attractions. A large younger children's area is also available featuring a pirate-themed aqua play structure with over seven slides including the Champagne Bowl body slide, and five other kid's body and tube slides. Admission for those over 42 inches is $41.99, children under 42 inches are $29.99, and children age 2 and under are free.
Maui Jack's Waterpark just opened in May 2018 in Chincoteague. Visitors can enjoy brand new waterslides and floating on the lazy river. Cabanas, locker rentals, concessions, and souvenirs are available. Full and late day passes are available. Full day rates for children under 47 inches are $17.99, $22.99 for adults and those over 48 inches, and seniors 65 and older are $19.99.
Many parks offer online discounts, military discounts, group rates, coupons, and season passes. To learn more, visit each park's website for detailed information.
Waterparks...just another reason why we love where we live!