By Liz Moore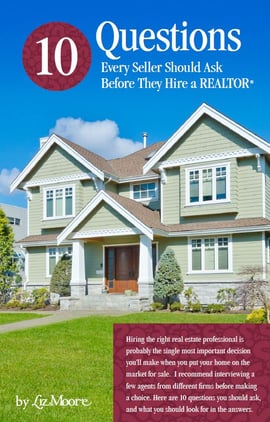 Hiring the right real estate professional is probably the single most important decision you'll make when you put your home on the market for sale. I recommend interviewing a few agents from different firms before making a choice. There are 10 questions you should ask before you hire a real estate agent - part 1: price!
Question 1: What should my list price be, and how did you arrive at that number?

Next to hiring the right agent, price is definitely the next most important decision you'll make. Price it too high, and it will languish on the market unsold for months, usually resulting in a series of price reductions as you chase the market down.

Pricing is both an art and a science. We use a 10-step pricing methodology that accounts for the potential appraised value, as well as positioning among the current competition – a wise pricing strategy considers both. Beware of an agent who simply evaluates sold comparable sales without making thoughtful adjustments for differences such as square footage, upgrades and other features.
Benchmarks such as assessed value, price per square foot, current absorption rates in the neighborhood and price point, and other trends should be taken into consideration and explained to you.
In a nutshell, your agent should have a firm grasp on how to position your home to be the best value in the neighborhood and/or price point, and to ensure that it will appraise for a buyer getting financing.

If you are thinking about about selling your home, download our eBook, "10 Questions Every Seller Should Ask Before They Hire a REALTOR®".