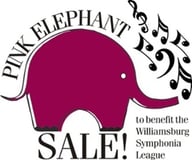 Shop our third Pink Elephant Sale on Saturday, April 29th from 10-2 at 2861 Bennett's Pond Road in Williamsburg's Governor's Land neighborhood. Come find treasurers of gently used clothing, accessories, jewelry, furniture, and more. All to raise money for the The Williamsburg Symphony Orchestra League!
Donations of fine clothing and furnishings will gladly be accepted! Volunteers will be standing by at 2861 Bennett's Pond Road on Friday, April 21st and Saturday, April 22nd from 9am - noon to collect your items.
Email us at pinkelephant@lizmoore.com for more information.