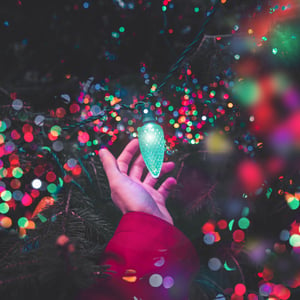 Celebration in Lights, Virginia's first drive-through holiday light event, opens for its 26th season on Thanksgiving night (November 22, 2018). Newport News Park will be transformed by over a million individual lights, creating animated holiday and fanciful scenes. For its 26th year, the event will add special effects snow that will fall on the cars as they drive into the Winter Wonderland area on special nights (nights will be posted on https://www.nnva.gov/2414/Celebration-in-Lights).
The event will also add a new Gingerbread House display and new scenes on its two giant 25' x 16' screens of color-changing LED lights. The Forest of Lights display area will have upgraded color-changing LED bulbs to create more complex colors and patterns on the trees.
Hours and admission are: open nightly 5:30 - 10:00 p.m., $12.00 per car and $60.00 per bus; cash, credit cards Visa/MC, and checks made payable to the City of Newport News are accepted; advance/gift tickets may be purchased at the Newport News Visitor Center. Newport News Park is located at the intersection of Ft. Eustis Blvd. and Jefferson Ave. in Newport News, VA. Directions: Eastbound I-64 use Exit 247 (Lee Hall), Westbound I-64 use Exit 250 B (Ft. Eustis). For more information, call 757-926-1400 or visit www.nnparks.com.
Celebration in Lights...just another reason why we love where we live!