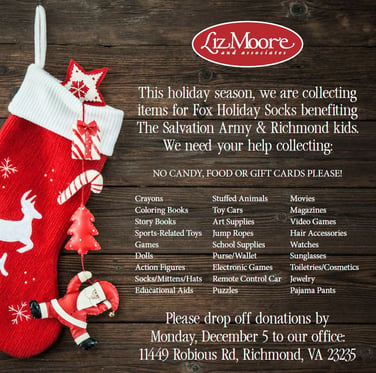 This holiday season, the Liz Moore & Associates Richmond office is collecting items for Fox Holiday Socks benefiting The Salvation Army and Richmond kids.
Donations can be dropped off at our Richmond office, 11449 Robious Rd, Richmond, VA 23235, by Monday December 5th.
FOX Holiday Socks is the collaborative effort of the existing Salvation Army Christmas Stocking program and FOX Richmond's Public Service effort. Each year The Salvation Army helps underprivileged parents deliver hope to their children during the holiday season.
Through FOX Holiday Socks families in need can choose a stocking carefully filled by a member of the community with items specifically chosen for a child by age and gender. In our community alone, hundreds of children benefit from this program.
Just another reason why we love where we live!
For more information on this new Liz Moore & Associates location, visit www.lizmoore.com/rva.
Are you interested in local events, hot real estate topics, tips and trends?
Click below to subscribe to our blog!