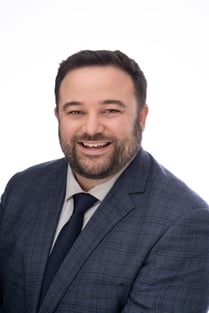 Liz Moore & Associates is excited to announce Jake Evans as Director of Operations, a new position created due to recent company growth.
"We've experienced a lot of growth in a relatively short amount of time," Moore said, "something I don't think any of us really anticipated. It became apparent that a Director of Operations was just what we needed to take us to the next level, and free up some of my time allowing me to focus on what I love to do, spending more one on one time with agents."
Jake has been a REALTOR since 2017 and has been with Liz Moore & Associates since April 2020 in both a sales and leadership capacity. A 2012 graduate of Christopher Newport University, Jake served as a Business Development and Operations Manager for a local property management firm, as well as a Tax Manager for several different accounting firms. His combination of experiences, along with quick success in real estate, gives him a unique set of qualifications and skills to oversee the daily operations of the company as it continues to grow.
"I am so excited for this opportunity and to hit the ground running.", Evans said. "I knew when I joined Liz Moore & Associates that they had next level resources for agents and that I wanted to be a part of it. Now, being able to further enhance those opportunities for agents is truly an honor."
Jake will report directly to President, Liz Moore, and will serve all offices and divisions. In addition to helping with recruiting and training, he will work with staff across the branches to implement best practices, work with the Technology Engagement Manager on enhancements and engagement as it relates to the proprietary back office system, and a host of other things such as overseeing compliance, building management and delivery of high-level agent support.
Jake's first official day as Director of Operations was December 1, 2021.