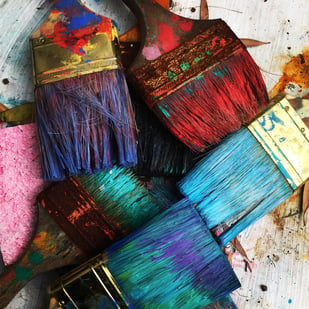 Want to try some bold, trendy colors in your home but don't know where to start? We've got you covered.
A cayenne red can make bold, spicy statement. A deep purple or blue can add depth and richness. A sunny yellow or warm orange can brighten any space. A soft green or light blue can bring the peace of nature inside. Color showcases our emotions and our creativity, and always makes a statement.

These bold, trendy colors are fun, popular and can update any home, but trends can also be passing. A great way to stay current and protect your investment from becoming outdated is to incorporate these colors in
your home in small bursts, also known as pops of color.

Pops of color can highlight architectural details and add personality to any space. The best part is you don't have to commit an entire room or wall to that trendy color to achieve the effect, a pop is just that, a small
area or item in that special shade providing a flash of color.

Try an accent wall, half wall above or below your chair rail, or a piece of furniture. Even painting a frame, chandelier, lamp, or pair of candle sticks in a bold shade can add a pop of color and lend visual interest to a room or area in your home.
Great areas to play with color are laundry rooms, bathrooms and entry ways. You don't spend hours in these places, rather you pass through and fun colors here can leave a lasting impression.

You're not a painter? No problem. You can always hire a professional for a big job, but this is a fun way to put those hours you've logged watching HGTV to good use.

What you'll need for your DIY makeover paintover: an old rag, painter's tape, primer or white paint if you're covering a dark color, your paint color of choice, and an appropriate size paint brush for the project. For added appeal, find updated or funky accessories for your piece like a new lamp shade or drawer pulls.
It's really quite simple once you have all of your supplies. First, wipe away any dust so you have a smooth, clean surface. Next, remove drawer knobs or tape over any hardware or areas you don't want painted. Apply a primer coat if needed to cover particularly dark colors and stains. Next, apply one to two coats of your chosen paint color and let dry.
Remove any tape and reaffix the necessary items like lamp shades, light bulbs, or drawer knobs, and wait for the compliments to start rolling in.

The possibilities don't end with paint when it comes to playing with color.

Throw pillows, blankets, vases, and framed prints are just a few easy, low commitment ways to play with color
in your home.

So, go ahead and make a splash with bold, trendy colors in your home! We want to see your projects and how you incorporate pops of color in your home.
Are you interested in hot real estate topics, tips and trends?
Click below to subscribe to our blog!