The days are getting shorter and the weather crisper. If you're looking for a fun way to appreciate the beauty of this season but don't want to travel very far, then look no further than Charlottesville, Virginia.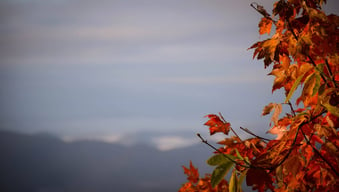 Charlottesville is a short drive from Richmond, only about an hour from anywhere in the capital city in fact, but feels like another world with wide expanses of farm land, rolling foothills and towering Blue Ridge Mountains in the distance. This rural setting is the perfect place to appreciate nature's beauty and observe the vibrant reds, oranges, and yellows of the changing autumn leaves. According to the Virginia Department of Forestry, the typical fall foliage peak color period for this region is October 25th through November 10th.
And what better way to enjoy gorgeous views than with a relaxing beverage in your hand! Charlottesville is home to many wineries, breweries, cideries, and distilleries.
Wineries
Charlottesville has a long history of grape growing and wine production dating back to Thomas Jefferson and earlier, often called the "birthplace of American wine." The gentle rolling hills with fertile granite-based clay soil and mild temperatures combine to yield grapes with a rich and multilayered old world flavor. Today wines
from this region are considered among the best produced anywhere in the Eastern United States.

The best place to start planning your trip is monticellowinetrail.com. Here you can find printable maps, links to every winery, a calendar of events, and a handy interactive map to plan your trip and get directions from winery to winery.

It's helpful to chart out your course in advance as cell, internet, and GPS service can be spotty in the valley
and the mountainside.

Usually a few wineries are grouped together making it easy to travel between a few in one day. Most wineries have tasting rooms and staff to guide you through structured tastings so you may learn about and sample their wines.
Tasting fees typically range from five to ten dollars. Group tastings should be scheduled in advance for
larger parties. Many offer guided tours of their production facilities, cellars, and barrel rooms as well for an additional fee.

While some wineries have light fare like cheese and crackers for sale, if you plan to tour during meal time, picnics are encouraged and welcome at all of the wineries. A few offer a lunch menu like Pippin Hill Farm & Vineyards and Trump Winery, and some host food trucks on the weekends.
Breweries
Grapes aren't the only vines flourishing in this region. Hop vines thrive here as well, in fact Virginia was once known as the hop capital of the world! This area is home to five small-batch breweries making handcrafted ales and lagers.

These award-winning brew houses welcome visitors for tours and tastings. Some of the breweries offer food menus and festive outdoor spaces for the family to enjoy.

To plan your brewery tour, visit brewridgetrail.com, named in homage to the nearby Blue Ridge Mountains. Here you'll find a trail map and suggested itinerary, calendar of events, and links to all of the breweries.
Cideries
It's no secret Virginia is known for its apples and Charlottesville has a few cideries serving up several varieties of apple cider and hard apple cider, the most famous being Bold Rock Hard Cider. Bold Rock's Nellysford Cider Barn, located just south of the city is a large, beautifully rustic timber framed barn overlooking the Rockfish River. The facility boasts an expansive taproom and restaurant and plenty of outdoor seating.
Distilleries
Recently the craft distillery movement has taken off around the country with small batch distilleries popping
up everywhere, and Charlottesville is no exception. You can find tasting rooms offering whisky, vodka, rum, gin and a variety of cordials in the Charlottesville area.

To plan your tasting visit Virginia.org and search for distilleries. A few possible destinations include Ragged
Branch, Silverback, Vitae, Virginia Distillery Company, and Woodsmill Distilleries.

For such a short drive away, there are so many adventures to be had! In addition to sampling wine, beer, and spirits, there's hiking, camping, exploring The University of Virginia's campus, apple picking, catching a show at John Paul Jones arena, watching a sporting event at The University, exploring the booming foodie scene, visiting the Downtown Mall, and so much more.
There are so many things to do, you could take a day trip every weekend and experience something new!
Charlottesville, Virginia...just another reason why we love where we live!