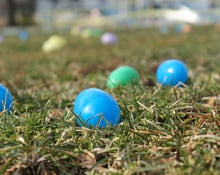 Looking for an Easter Egg Hunt for the kids? Check out the event at Lee Hall Mansion, Saturday, April 14th!
Experience the Antebellum south on the grounds of Richard D. Lee's mid-nineteenth century home by bringing the family to this popular annual tradition. In addition to the Easter egg hunt, games and face painting will be available. The Easter Bunny will be on hand for photo opportunities. Plan to arrive by 9:30 am as the egg hunt starts promptly at 10:00 am.
The cost for this event is $5.00 per child.
Lee Hall Mansion...just another reason why we love where we live!