Meet the Builder
One of Greater Williamsburg's premier custom homebuilders, Wayne Harbin Builder, is offering beautiful, quality custom homes at a great value in The Oaks at Fenton Mill.
Wayne Harbin Builder is offering 11 of their most popular floor plans to The Oaks at Fenton Mill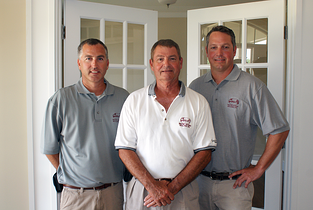 including many Southern Living floor plans, each available for individual customization to fit every family and lifestyle. As the sole Southern Living® Custom Builder Program member on the Virginia Peninsula, Wayne Harbin Builder has the ability to combine classic Southern designs and contemporary living arrangements.
Wayne Harbin Builder standard finishes far exceed industry standard home finishes. The high ceilings, granite, extensive crown and chair molding, 3.25 inch oak flooring, and many other luxurious finishes all considered standard to Wayne Harbin Builder, combine to give their homes a feeling of extraordinary quality.
For the past 29 years, Wayne Harbin Builder has continually been recognized throughout the region not only for their beautiful designs and craftsmanship, but also for their exceptional customer service and dedication to energy efficiency.
Founded by Wayne and Bonnie Harbin in 1985, Wayne Harbin Builder has continued to make custom-home construction a family affair. Sons Doug and Brad both joined the family business shortly after college graduation. "Our reputation in the industry and the community is on the line every day, with every project," explained Doug Harbin. "Our family does whatever it takes to get the job done, our day doesn't end at 5 p.m. and no one has a set "role" in the company. We all pitch in and do whatever is necessary to fulfill our commitments and deliver quality-constructed homes that we're proud to put our name on."
The Harbins have organized their company into several departments for maximum efficiency and buying power including estimating, accounting, and project management. This structure also provides the best customer service experience where buyers can directly reach the proper department for answers, maintaining the personal touch a family-owned company provides.
Wayne Harbin Builder understands that building a new home and customizing a floor plan can seem overwhelming to customers so they've designed a process to make the experience a manageable and enjoyable one. Each new project is assigned a project manager to act as the buyer's personal guide through their home construction project from start to finish. The project manager schedules selections in a manageable way and provides their buyer with a list of all selections and dates, vendor contact information, and options available in their budget. "We are 100% open from the beginning," said Wayne Harbin, "there are never any hidden costs or expenses." The project manager even calls and reminds buyers of upcoming appointments. Buyers are presented with all of the information they need to easily make the best selections according to their preferences, lifestyle, and budget.
Wayne Harbin Builder offers meetings with interior design, electrical, and mechanical professionals throughout the construction process. These professionals meet the homebuyers and learn their preferences and intended uses for their space, and offer their advice and expertise. The interior designer meets with the buyer three times to ensure all interior and exterior finishes, appliances, and paint compliments each other. Electrical professionals walk through the home with the buyer and discuss switch and outlet placement. Mechanical professionals discuss systems preferences with buyers. This process provides the most aesthetically pleasing home that is designed to each buyer's exact specifications and preferences.
By constructing new homes in the region for the past 29 years, Wayne Harbin Builder has developed strong relationships with the most trusted, high-quality subcontractors and suppliers in the area. "Our local subcontractors and suppliers know the area and the conditions, and they're responsive and reliable," said Doug. "We like to contribute to the local economy and support small business whenever possible too."
Wayne Harbin Builder was one of the first EarthCraft certified builders on the Virginia Peninsula constructing energy, water and resource-efficient homes that exceed current building codes and standards. Wayne Harbin Builder uses state-of-the-art materials and construction techniques to address the factors that impact homes in this region including high heat, humidity and temperature swings. Owners benefit from lower utility costs, enhanced indoor air quality, increased comfort, and reduced home maintenance requirements. At the conclusion of construction, each homeowner is presented with an EarthCraft certificate certifying their home is an energy-efficient EarthCraft constructed home.
Quality construction is another hallmark of Wayne Harbin Builder homes. Each home is inspected and tested several times by a third party ensuring maximum quality and system efficiency in every home.
As long time community residents, Wayne, Bonnie, Doug and Brad all take great pride in each home they build and the relationship they form with their customers along the way. "I'm always running into customers at the grocery store telling me how much they love their home, that's the most rewarding part of what we do," said Wayne. "We have many return customers, some using our renovation services 10 years down the road and others wanting another new construction home, and for our family, that is the greatest compliment."
Come explore The Oaks at Fenton Mill and learn more about Wayne Harbin Builder design and construction.
Are you looking for new homes for sale in Williamsburg? The Oaks at Fenton Mill has many affordable options surrounded by a beautiful setting.
Contact Liz Moore and Associates at concierge@lizmoore.com or 757.645.4106, and we'll put you in touch with one of our new homes experts who can point you in the right direction!
Are you interested in hot real estate topics, tips and trends?
Click below to subscribe to our blog!