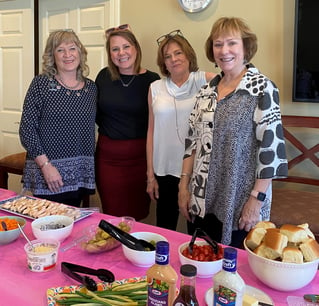 Agents from the Liz Moore Williamsburg office, Rebekah Brewster, Ellen Knecht, Sue McSwain, and Faith Heinen, hosted a Potluck with a Purpose lunch to raise money for ShoeLady.org.
ShoeLady.org's mission is to ensure that local children whose parents cannot afford to buy them shoes have new shoes as often as needed; to identify giving opportunities and match them with donors; to engender and nurture the spirit of compassion among others in our community and in our nation.
Potlucks with a Purpose are held monthly and hosted by agents to raise money for different charitable organizations. Agents provide lunch in the office for a cash donation and all money collected goes to worthy causes.