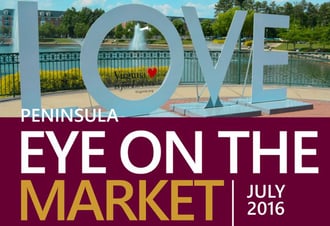 The supply of inventory on the Virginia Peninsula has crept up from 5.3 months to 5.5 months, which is not an unusual trend as the summer winds down.
This benchmark reflects the number of months it would take to exhaust active listings at the current sales rate. Generally speaking, a 6 month supply of inventory is considered a balanced market.
What does this mean for you? It's a great time to sell!
Statistics are from REIN Multiple Listing Service, and are based on January – July, 2016. Run date, August 31, 2016.
If you're a seller who has been wondering if it might finally be time to sell, email us at concierge@lizmoore.com, or click below, and we can prepare a complimentary analysis of market value for you – you just may be pleasantly surprised.
Are you interested in hot real estate topics, tips and trends?
Click below to subscribe to our blog!